You might be like me.  When I became a mom, I scrambled to gather up wisdom and insight about my monumental new responsibility.  This precious life stared at me, sometimes screaming his tiny little lungs out.  All I had done to prepare was register for baby showers and read What to Expect When You're Expecting. How about after you're done expecting?  The early months of my infant's life are sort of a blur.  I attribute that to a few factors, not the least of which was us simultaneously taking on a four-year-old foster daughter and moving to a new city.
Honestly, it was probably our foster daughter who spurred the urgency to get a grip on this whole "being a mom" thing.  I wanted desperately to provide her a sense of stability and love.  Her tantrums, refusals to do what I asked and disregard for boundaries required my husband and me to figure out some discipline, and pronto.  At any given time you would find my nightstand piled high with a stack of books like, "Shepherding A Child's Heart," "How to Raise Children for Christ," and "Parenting with Love and Logic."  I constantly talked with other moms in an effort to figure out what worked best.
Opinions, Everyone's Got One
If you really want to drive yourself directly into the nuthouse, ask a bunch of different moms their opinions on parenting approaches.  Spank.  Don't spank.  Meet their needs so they are well adjusted.  Don't meet their needs or they'll end up selfish.  Make them cry it out.  Never let them cry without comfort.  Wear the baby.  Give them ample mat time.  Ooh, la la.
Eventually, my husband and I landed on some approaches which became our go-to philosophies and methods for rearing our children.  They are the right ones, of course.  We stood by them like all dutiful and committed parents.  Parenting is passionate business.  You think politics has its lines.  Moms and dads get pretty serious about what they decide to do (and not do) as they rear their children.
Perfectly Imperfect
Of course, we never did follow these methods and principles perfectly, because, for one thing, we are human.  For another, our children sometimes didn't get the memo that these magical and amazing approaches were supposed to shape them into all they were meant to be.  Somehow we all made it through the learning curve.  In retrospect, it would have been thoughtful of God to give us some practice kids to cut our teeth on so we could really get good at this vital task of childrearing before the real job of parenthood kicked into full swing.  I mean, every other significant role in life has some sort of warm-up, why not parenting? 
We barrelled forward without our license in parenting.  Eventually we learned to partner more often (rather than taking opposite approaches and hoping somehow the kids wouldn't notice).  We got better at balancing our tendencies.  I am more likely to say things like, "Stop poking him in the eye, or you will be grounded until you graduate from High School!"  My husband, on the other hand, has more of the peace corps style of parenting.  Let's go in and give some aid and a good talk.  I've learned to tone it down and he's grown in stepping it up.  
If you ask any experienced mom, I bet she'd tell you a similar story.  Whether she started out with a solid plan as to how she would structure life with her children, or she went diving in headlong, she'll say she grew as she mothered.  God uses motherhood to bring out our worst so He can ultimately develop our best.
The Basic Three
I've come to the point where I'm not so interested in the staunch lines between parenting approaches.  Instead, I've distilled three essential daily habits I make sure I do daily no matter what.  These are my "basic three" for intentional motherhood.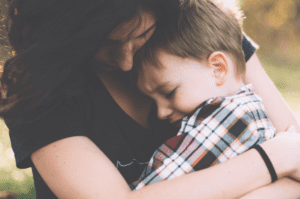 I hug them.
Simple as it sounds, this is a powerful practice.  During infancy, we cuddle many times each day.  As children grow and start walking, we have to interrupt their activity to get a little snuggle time.  Soon we only hug them goodbye as they run off to their classroom and at bedtime.  As a mom, I have personally witnessed the number of daily hugs can start to diminish over the years.  I "warned" my children early on that I will be hugging them every day until they leave home.
Simply put, I choose to extend love in a tangible way daily.  Purposing to hug my child makes me consciously reach out to them.  As my older son entered adolescence, the daily hug has been a Godsend.  He can be angry, distant or depressed.  I extend a hug anyway with no expectation of reciprocation.  I simply love on him.  Often a softening occurs.  Our hearts connect wordlessly and he feels my support regardless of what he is going through or how he is acting.
I keep the conversation going.
I learned this concept from Axis (an amazing ministry to families of teenagers).  They talk about the "One Conversation." You know, the one you started when they first started talking.  It will continue until one of you dies.  That's your conversation. 
I vow to continue adding to the conversation with each of my children daily.  It's easy to drift in families.  We forget to check in with one another – to devote ourselves to sharing and listening.  Committing to the conversation makes me intentional about setting aside time to speak into my children's lives and to hear what is going on in their hearts and minds.  
I pray for them.
When my son was an infant a dear friend invited me to become her prayer partner.  We met by phone every morning to pray over our children.  We used a "31 prayers to pray" card that covered various aspects of their character.  I have learned to come to God about every need my children have and to lift my anxiety about their futures to Him regularly.  
A hug, a conversation, and a prayer – these three practices define my motherhood daily.  What habits have you adopted as a mom which help you love intentionally?