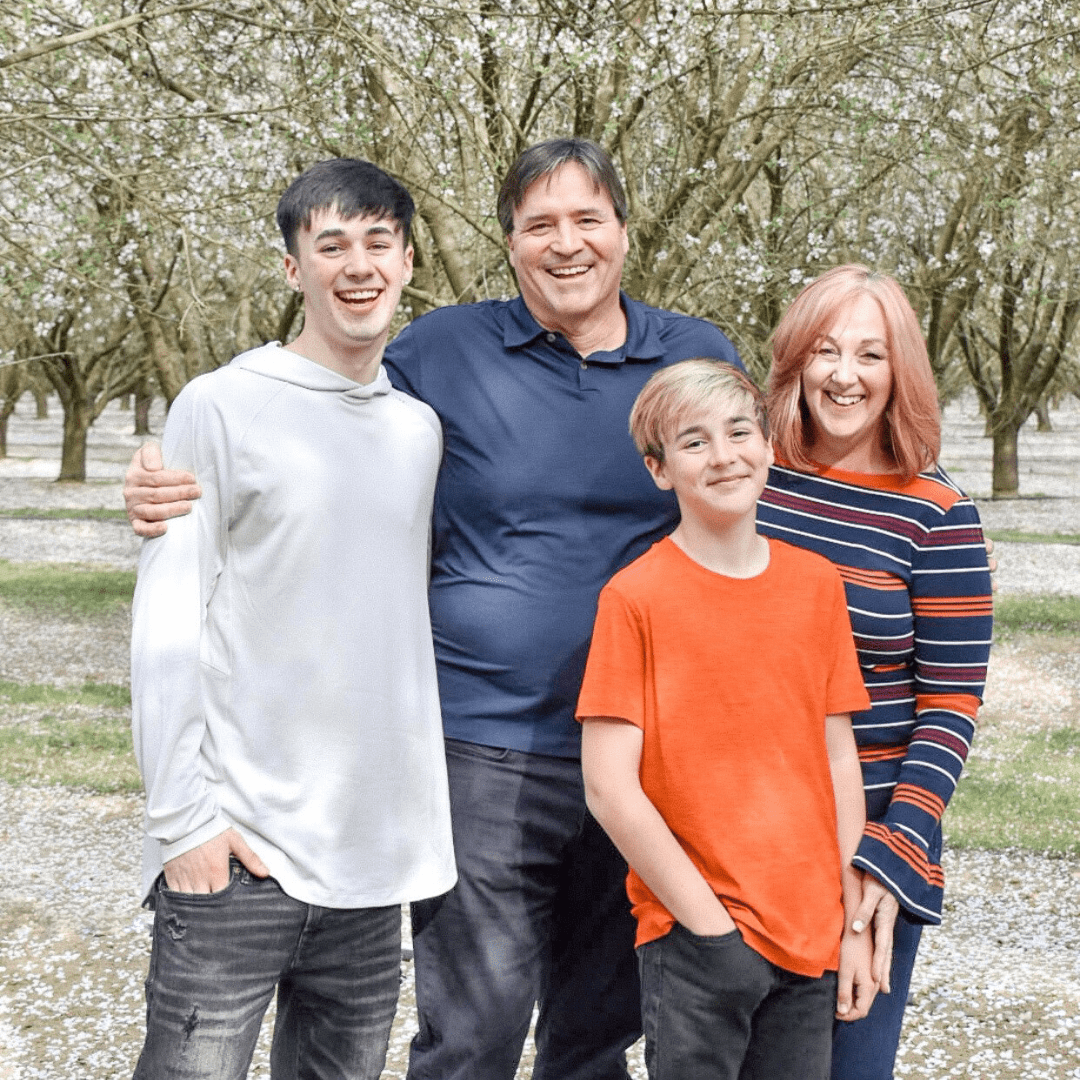 I'm Patty – the girl who lives in the boys locker room, or who is a "den mom" in my own private boy-scout troop … 
The Love of My Life
I've been married to my dear, surfer husband for over 20 years. He has a heart of gold. In life, I'm like the kite and he's the steady hand holding the string. God brought us together to balance and support one another. I've learned a lot about slowing down, patience and humility from my husband.  We've weathered many tough times. What hasn't killed us made us stronger. When I grow up, I want to be just like him.
My Boys
I have two boys – a sixth grader and a college student. My oldest thinks like a philosopher and contends like a lawyer. He has a heart for the underdog and a sense of justice a mile long.  He also has a will of steel. My youngest dreams his way through life. He'd rather be creating, crafting, or hosting ten of his closest friends for a day of Legos and playing board games.  We have home educated, attended public school, … and currently use a charter school for support.  
My Dream
I am passionate about writing.  It has been my privilege to co-author a book entitled, Help! I'm a Parent. Collaborating on that book gave me the courage to write my own. I published Parenting Your Teen Through Chaos and Crisis in February 2018. In September of that same year, I published, Slow Down, Mama: Intentional Living in a Hurried World.  The accompanying devotional, Slow Down, Mama: Thirty-One Days to Help You Slow and Savor released in March 2019.
In April 2020 I took a big leap and started writing fiction. I didn't know if I could, but some writer friends encouraged me. I LOVE IT! Now writing sweet-clean romance has become the joy of my life. I hope you enjoy these engaging, swoon-worthy stories with happily ever afters. 
Sweet Jesus
My walk with God is a story of fits and starts, stumbling and soaring.  The more beautiful thing is His walk with me.  If you want to read my testimony, go here.  Life with Him has led me to supporting women overcoming addiction and life on the streets; mentoring women who have been through traumatic childhood experiences;  ministering to moms; and coaching women to become all they can be.  Jesus lit a fire in me to see people walk into increasing freedom and intimacy with Him.
What I Want for You
When you visit Patty H. Scott, you can expect to find a few things …
Encouragement for Your Heart: Life dishes us daily challenges. I want to share understanding and refreshment. If you really want a weekly boost, invite me into your inbox every week for a dose of Saturday Sweetness. (one book recommendation, a little inspiration, and a recipe for you). 
Books for Christian Living: I long to bless you as you reach for more of Jesus in your life. My life mission is to abide in Him, become like Him, and live for Him. My books help you do the same. 
Sweet-Clean Romance: I write swoon-worthy books with characters that grip your heart, make you laugh, and carry you to their happily ever afters. 
I love sharing encouragement in my letters. I write two a month and deliver them to your inbox. You will come to look forward to these little doses of sweetness in your inbox. If you want to be on the list, sign up here. 
I LOVE LOVE LOVE sharing my heart with women in groups. If you want me to come to speak to your group, or to hear some talks I have given, feel free to visit my speaker page.
I do hope you come back and let me know you are here. I write to reach out and bless. When you reach back it matters to me. Thanks for popping by. Come back anytime.