"I love you!" 
Sometimes we shout out "I love you" as our children are running out the door to play, or we whisper it over them as they are falling asleep. But, how do we show our love in a way that sinks down into their soul and takes root? Our children need to know they are loved, and not just know it in their heads, but experience it in the depths of who they are.
We're in the middle of a series I started a few weeks ago talking about our children's four basic needs and how to meet them. If you want to read the first post in this series, you can find it here. 
The four basic needs are: 
Love

A Sense of Worth

Confidence

Constructive Activity
When those needs don't get met, our children resort to seeking a poor substitute. 
The substitutes for the four needs are: 
Love –> Attention Seeking
A Sense of Worth –> Feelings of insecurity lead to Perfectionism (earning worth through performance).
Confidence –> Trying to Control people and circumstances. 
Constructive Activity –> Destructive Activity
Today we are going to dig into the need our children have to feel love, what happens when that need isn't met, and what we can do to meet it in a way that matters. 
All You Need is Love
I know it's a Beatle's song, but it's also true: all you need is love. God talks about this in 1 Corinthians when He says that without love we have nothing. Jesus tells us in John 15 and Ephesians 3 that we need to be rooted and grounded in love, abiding in it.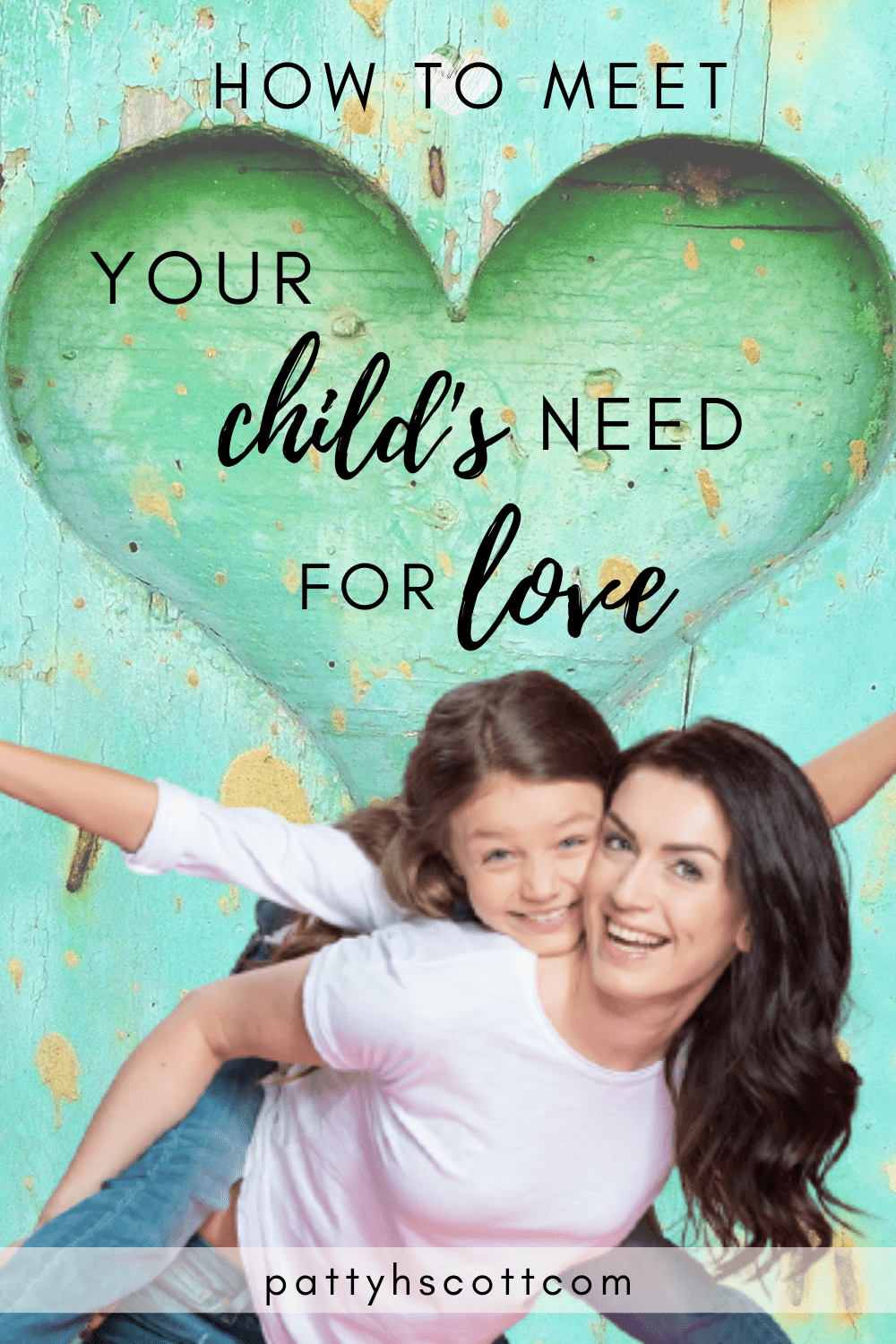 Love should be the place we dig our roots in deep, the well from which we draw our living water, and the source of all the things we do. That thought alone is simultaneously humbling and inspiring.
I know, in my own motherhood journey, my kids have pushed me to the point of love-less behavior on more than one occasion. How I behave is my responsibility, but you and I both know what it's like to be pushed ot our limits. I have lashed out in impatience or frustration rather than stepping back and refueling in love so that I could be more careful about how I respond to them. 
Love is the essence of healthy relationship. God wants us to first dwell in His love, and then pour that love out (or let it flow out) onto those around us. Motherhood is one of the key places we need to focus on allowing God's love to flow, and unfortunately, it is sometimes one of the last places that actually happens consistently. 
How Do I Love Thee?
Elizabeth Barrett Browning asked this poignant, and rhetorical question in her famous poem: How do I love thee? Let me count the ways. We need to ask this question too. How do we show our children love? The two most critical ways to extend love to our children in ways they will feel it and believe it are:
Spending Time with Them

Listening to Them.
I don't know about you, but for me, those are the two most expensive things for me. They are the hardest to muster. But, children believe we love them when we set aside time to spend with them. They also want us to listen–really listen. 
"Mom! Mom! Listen to Me!"
A few years ago I read the book Hands-Free Mama. My takeaway was the concept that I need to set down devices to give my child undivided time. I know that seems like a no-brainer. In this day and age, we all can be oblivious to times when we have a screen between us and our children. So, I've made it a habit to shut down screens whenever my child approaches me.
Of course, there are times when what I am doing has a deadline. We all will need to fit important tasks and obligations into our motherhood. We can do this in a way that works with our child's needs and doesn't neglect them.
Have you ever seen this skit these moms did where they are talking about what it's like to be a boy-mom? In it, the boy goes on and on about the details of building something in Minecraft. Girl. I have to tell you, I couldn't count the number of times my sons have wanted to talk about things that enthralled them. Do I want to know about the finer details of Fortnite? No. No I don't. I really, really, really don't. But, I listen. Listening is a discipline. I remind myself: this is how I love them well. Even if it bores the living daylights out of me, I listen. I set aside my own discomfort while I focus on what matters to them.
You can spend time listening to your child talk about their day, or tell you a story, or just ramble on. Believe me, what is important is the fact that they know you are present and listening. Later, as they age, the time you have invested will pay off in spades. They will come to trust you to be a listener and they will be likely to trust you with serious topics in their teen years.  
Time for You
Besides us listening to them, our children also need our undivided time. Life makes demands on us as women and moms. Most of us wear so many hats we could put the Mad Hatter to shame. That said, no one else will be the wife to your husband or the mother to your children. Those are roles only each of us can fill in our own families. Because of that, we need to set aside time to be present for our children (and our husband). 
I suggest picking times each day and times each week to dedicate to doing things with your child(ren). Giving each child 1:1 time is important. If you can read with your children, or play games with them, it shows them you are interested and available. It doesn't have to be anything fancy. Let them pick what you do. Your time invested in them says, "I love you," in ways your words alone simply can't.
May I Have Your Attention?
When our children don't experience our love, they act out. Usually this comes in the form of attention-seeking behavior. They subconsciously decide they don't have our love, so they settle on getting our attention, and they do this in all sorts of ways.
If your child is engaging in a lot of attention seeking, you might step back and consider whether they are feeling the love you have for them. Then, try to see if there are ways you can pour into them with your time. This makes a big difference. Many moms have shared with me how their whole home life has changed when they focused on making sure their love was experienced by their children.
If you feel pressed for time, which we all often do, be sure you make room for what matters to you. As I mentioned before, fill your own tank so you aren't trying to pour out from empty places. Then prioritize your children. The days will come when they are older and they would rather be with friends than you. After that, they will be teens and their lives will start to go out from the home more and more.
Cherish theses days when your children are under foot. Make a point of giving them your time and your listening ear. You will never regret it. 
---
I love pouring into YOUR mama heart. If you would like to receive my weekly email, with some encouragement from my heart, a weekly #momhack, and a family-tested recipe, you can sign up below.
When you sign up, I will send you Ten Keys to Avoiding Power Struggles. It's the first book in my Mini-Books for Moms series, and it's my FREE gift to you. Mini-books for Moms are books you can read in less than an hour and apply the principles and methods that same day.