This week more than a few friends have shared challenges they are having with their kids. If that's you, know you aren't alone. This looong season can get to us (and to our kids) and become overwhelming at times.

Even when we don't have extra burdens, we can be worn thin by the day-to-day demands of motherhood. Through it all, we are trying to maintain consistency and a semblance of peace in our homes. This always involves some discipline. 
I want to share some thoughts I've had lately about discipline. Especially, I want to share a gem about finding teachable moments with your children. 

What is Discipline?
How we answer the question "What is Discipline?" makes all the difference in the world. As a matter of fact, parenting experts and whole schools of thought have risen up around how we define discipline. And we feel STRONGLY about it. I've seen friends part ways when they didn't agree on a discipline approach.
It's big stuff. 
I'm going to tell you what I think the essence of discipline is, and while I'll be practical as always, I want us to look at the roots of discipline. Getting at the root will show us WHY we discipline and then we can get to how to incorporate teachable moments. 
Discipline comes from the Latin word discipulus, which means pupil. It is the source of the word disciple. We think of a disciple as someone who followed Jesus, learning to be like Him, to live according to His ways.
So, as we disciple–or discipline–our children, we are first showing, and second telling our children how to live well. We guide (or train up) our children in the way they should go. Discipline is instruction in right living, and it starts with our example, and then comes through our instruction.
We can't very well stand shouting at our kids when they are yelling at one another, place a hand on our hip, raise our volume to ten and scream, "Stop yelling!" and somehow hope our kids will get the message. We have to teach ourselves — grow into — the things we want them to model. More is caught than taught (and, I know, some days that's a sobering bummer as a mom). This always means the first and most important part of discipline is getting a hold of ourselves as moms. I always tell moms to do whatever makes them the mom they want to be. Get rest, fill your tank, have a hobby outside being a mom. Do what it takes so you can be your best (self-controlled) you as you teach your children. 
When I think of discipline, I think of three elements: relationship, limits, and outcomes.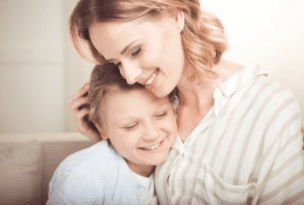 The Three Elements of Effective Discipline
Relationship 
Our relationship with our children is the foundation of all discipline. Think about it: God seeks relationship with us above everything. The cross is proof of that. While we were enemies, He died to bring us near. Since relationship is that critical, we need to value our relationship with our children and protect it as we discipline them.
I know we can get really frustrated and be completely at the end of our ropes when our children act out or continually test our limits. It's hard to be our best, and to preserve a sweet bond in those moments. We are ALL going to fall down on the job as we parent. The point is, prioritize your relationship–like God does with us. And when you mess up, restore as soon as you are able. 
Limits
Healthy limits = healthy home.
Our children (like us) need guidelines and structure. Bedtimes, mealtimes, expectations as to how we treat one another, what is allowed and what is not … are all important. As parents, we set limits. Limits should be clear, consistent, and chosen well. Crossing them should matter. 
Consequences
Consequences sometimes happen on their own, because the ways of God pervade creation and when we walk contrary to His ways, outcomes happen. When we walk rightly, we often experience blessings. Life isn't that straightforward, of course, but we do know from experience and from God's Word that choosing well results in ultimate gain.
In discipline (training our children) we give or allow consequences when our children stay within the limits (blessings) and when they don't (natural and logical consequences). Consequences should be well-matched to the problem behavior and should be used to instruct and lead our child forward into better choices in the future.
If my son doesn't clean his room, I don't send him in the back yard to dig a hole. I tell him he can't play until his room is clean. That's logical. When my son has a bad attitude, I don't make him write "I will be nice" on a piece of paper,  I figure out what's under the attitude when I can, and we practice kind ways of speaking to those around us. 
When to Discipline
Lately I've been looking more deeply for what we call "teachable moments." To me, these are the moments when I can help cultivate my sons' character as I interact with them. 
I feel like I've been in the process of internalizing a truth I learned a while ago when I read the words of Francois Fenelon (who lived in the late 1600s): 
Don't train your child in his first emotion or yours.

Translation: if you're upset, or if they are, it's not time to discipline. 
Why?

For one thing, when we are emotional (angry, burnt out, ragged), we aren't the moms we want to be. We tend to lash out or do some classic retaliation parenting (when we use consequences to pay back and gain control, not to teach).
Again — we've all been there. I'm not suggesting you bathe in mom guilt. We're talking about being more aware. We need to give ourselves buckets of grace. Receiving grace means knowing we are human, and also being willing to grow toward something better.
Resolve to wait until you are calm to discipline your child. God's kindness leads to repentance. Our kindness is key to our child's making a heart-based decision to do what is right.
In order to be kind, we must be calm.



Since the goal of discipline is to teach, we want to impact our child for the future. If we merely dish out angry outcomes, our child doesn't focus as much on the lesson as they do our emotional outburst. We lose their respect and we lose our authority when we are raging lunatics. Think about this in your life. When you see a leader who can't keep themselves together, do you gain or lose respect? Our kids feel the same way.

It's equally obvious that when our children are super emotional, they are often too overwrought to receive a lesson of any sort. The emotions block their learning. Again, our goal of discipline is (say it with me) instruction. We want our child to choose well next time, and the time after that, and for the rest of their lives–even when we aren't there to guide them, especially then. We are trying to train a heart attitude in our child. To do that, we need them to receive our training. If they are all worked up, they can't learn what they need to learn.

How to Multiply Teachable Moments
Sooooo … over the past few weeks, during a parenting epiphany, I asked myself: "How do I gather up teachable moments–those times when my child's heart is open and I can pour in and make a genuine difference?"

I've realized the golden teachable moments come as soon as we both are calm. I can ask my son a kind, self-reflective question and we can talk through what happened. When he is not defensive, and I'm not riled up, he can receive the lesson and that lesson can change how he chooses to do things next time.
Often it looks like me asking my child what they think they did wrong and how what they did impacted others. Then I ask him what he would do differently and what he wants to do to make up for or fix what went wrong. Sometimes I ask other questions–because parenting isn't a formula. Oh, man, we want that formula. Instead we get a guide (God), companions (other moms) and we get grace so we can keep growing. 
You can seek teachable moments with young children (as young as three or four) if you explain things at their level. And, you can seek them with your young adults. The more aware I am to seek out teachable moments, the more I am finding them. And I'm seeing my boys become more aware of their own need to grow, and they view me as an ally in that process instead of someone to be feared, resisted, or resented. 
So, let's aim to calm down and then grab up those teachable moments! 
---
I'd love to pour into your motherhood weekly.
If you want to sign up for my weekly email where I send you a little encouragement, a practical parenting tip, and a family-tested, family-loved recipe, you can sign up here. 
I'm working on a new series of what I call "Mini-books for Moms." The first one will be on Avoiding Power Struggles. When you sign up for my email, I will send you a copy for FREE. 
---