As I sit writing this, we are in the middle of the Covid-19 shelter-at-home experience. Over a month ago we were told to stay home so that the spread of the virus could be contained and as many people as possible could be protected from infection. To say these have been an unexpected and uncertain times would be a gross understatement. I don't know about you, but I'm assuming you are a lot like me. During a typical season of life I plan out my days and weeks. We stay purposely active with chosen activities including work, church, education, hobbies, and extracurriculars. We regularly gather with friends and neighbors. All of that has changed.
Uncertainty should be expected
It doesn't take a pandemic for uncertain times to descend upon our families. Sometimes upheaval comes through a health crisis, a move, a job loss or change, or a significant relationship gone south. Last year our entire kitchen flooded when our trusty fridge started leaking under all the flooring without us even knowing. We had to have fans that sounded like the tarmac of an airport going 24/7, we couldn't cook in our kitchen for weeks. All the walls were torn out at least three feet up from the floor. Then the reconstruction began. We tried to keep life going as close to what it had been, but obviously we had to adjust.
So, what do we do in times like this? As we are going through the uncertain times of being sheltered at home through the pandemic, I'm talking to many other moms. Some of us are thriving, and some not so much. All of us are having to make adjustments, and every one of us has had some seriously hard days, or even weeks. I have five tips I think will help us as we go through seasons of upheaval when the normal routines of life are turned upside down and we need to recalibrate.
Fill Your Tank
While it may seem obvious, making sure of our own self-care is sometimes the last thing we remember to do. In times of crisis we can be extra distracted and depleted. We need to tend our own needs more, not less. Depending on the circumstances we might have to get super creative to fill our own tank. Whether you entered motherhood as an extrovert or introvert, I'd venture to say you now want time to yourself in ways you never did before having children. No one is going to step up and make sure that happens. You have to build it in.
While I'm not a big proponent for using screens as babysitters, desperate times call for desperate measures, so strategically plan for screen time and make use of it to get your own kid-free quiet time. Maybe, if you are able, have your spouse or another support person spend time with your children while you get out and away. Remember, if your tank is empty, you have no reserves to parent from, and that is a surefire recipe for disaster.  
Give Yourself Grace
When we are grieving or adjusting to majorly uncertain times, we can't expect ourselves to keep up all the things we are used to doing. We have to lower our expectations of ourselves and those around us. For the first week of this shelter-in-place order, I was working on writing a new book. By the time the second week of seclusion rolled around, the grief, boredom, and lack of direction caught up with me. I just wanted to sit escaping into novels instead of facing life.
I did keep up with most of my obligations. I cooked supper (and sometimes, yes, ordered out pizza or tacos), but I let other things slide. We have to do whatever gets us through a tough season and let go of what doesn't fit at that time. Now, by week five of this ordeal, I'm feeling my motivation surge back (even enough so that I wrote this post and two guest posts this week!) The point is to allow yourself to go with whatever your energy level and grief demands without beating yourself up for it. 
Know Your End Game
It's easy in tough times to get shortsighted. We can become overwhelmed with the tantrums, sibling quarrels, and constant demands of motherhood. Everything is magnified during uncertain times. Normalcy is out the window. In times like this we need to remember our long-term vision. For me, I know the ultimate purposes of my life are to become more and more like Jesus. This isn't something I muster on my own effort, but I do have to work with God – allowing trials to work their magic in and through me. I also know my aim is to be a blessing; to lead others to God; and to help those who are broken and hurting. If I can focus on the bigger picture, my life regains purpose through hard days. 
Build in Routine
Children thrive on routine. I'm not talking about structuring every 15 minutes on a color-coded whiteboard. If that's your family's jam, go for it. What I want to remind you (and me) of is how helpful it can be to the whole family when the day and week follow some sense of predictable pattern. If, every day after lunch, the whole family takes and hour of quiet solitude in their rooms, children won't fight this. The flow will lead them to comply. Having a routine and rhythm of your day helps things flow smoothly for you and them. That doesn't mean no one will ever test limits or try to bend boundaries. It means you will have some expectations and like water running down a rut, the routine helps things flow in a predictable direction. 
Plan for Your Children's Basic Needs
We already talked about how we moms need time alone to refresh, or time connecting with other adults. In the same way your children have needs. When their needs go unmet, they let you know, and it's not always pretty when they do. Your children need time with you, constructive things to do, and positive feedback. Left to themselves, children don't always make the best choices. It helps, especially in uncertain times, to plan in ways that you can meet your children's basic needs so that they are able to be their best. This is one of those things where an ounce of prevention is worth a pound of cure.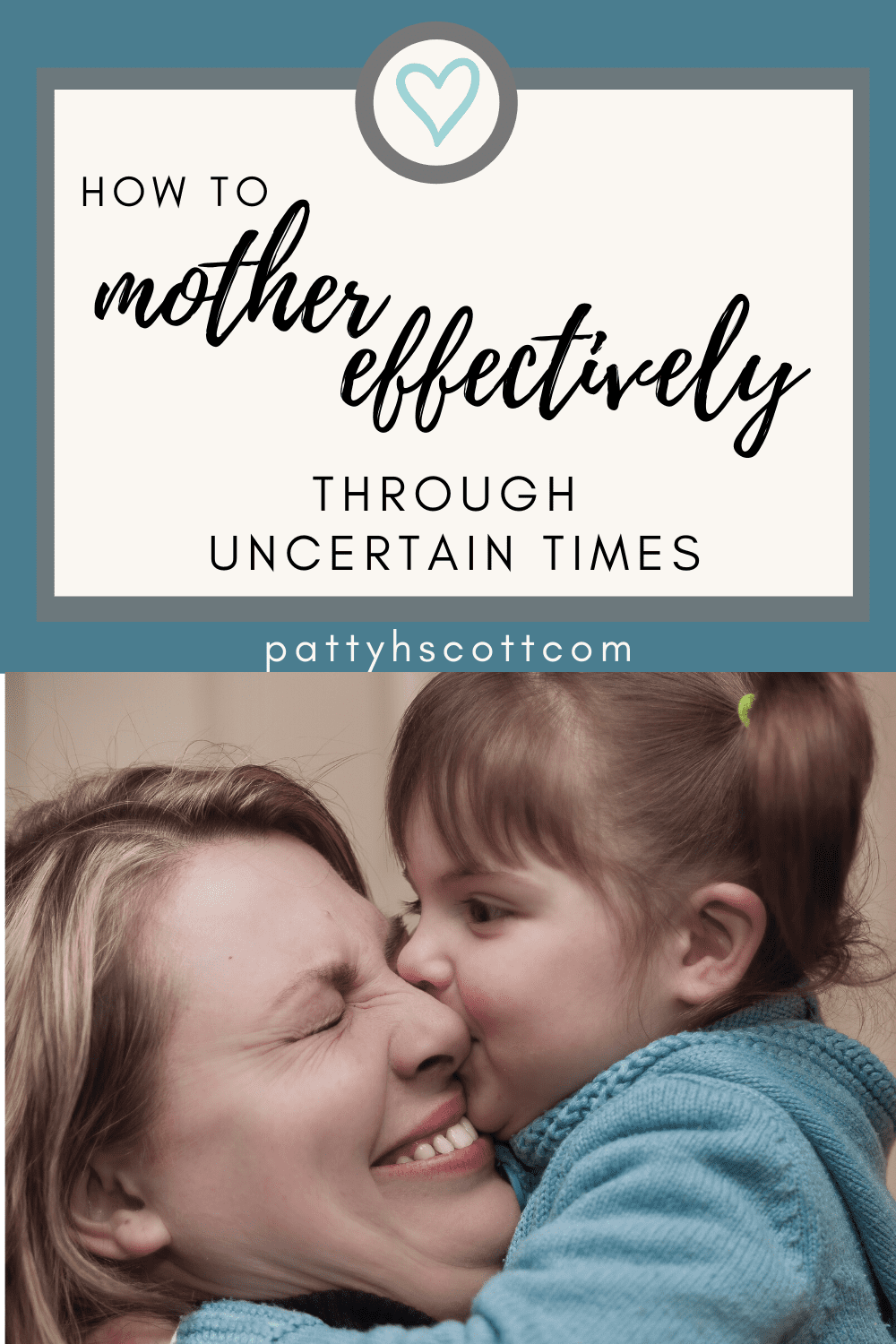 I hope these tips help you weather any challenging or crisis situation you encounter as a family. I'm here to support you in your motherhood journey. 
---
Would you like to receive weekly encouragement for your motherhood? Get a little inspiration, one book recommendation, and one recipe a week in my weekly letter.