This week!  Holy guacamole.  I mean seriously.  I've been in over my head.  Living in overdrive is no longer my usual status quo.  I have spent at least twenty years of my life purposely studying time management, mastering the art of "to-do" and organization, simplifying, slowing and all other sorts of good healthy life habits.  Because of the way I've learned to manage time, I lead an intentionally full life but don't usually FEEL overwhelmed.  
My normal routine includes out-of-town work throughout the month.  I go to LA two to three times a month.  Usually, those can be spread out with time in between to catch up, invest in home life and maintain a modicum of sanity.   This month my out-of-town days all overlapped into one week and that's where the term "holy guacamole" kicks in – with chips. 
Ay caramba!
Life on Spin Cycle
Have you had weeks where your head felt like a carnival ride as you prepare for work, more work, children's needs, getting the dog cared for, groceries, laundry, you name it on your never-ending to-do-list … Can you say spin cycle?   I know you relate.  
Besides my part-time job, I home educate, write, speak and minister.  Add in my crucial roles of wife, friend, and mommy.  Sometimes I have as many hats as Bartholomew Cubbins in the Dr. Seuss story.  The numerous hats don't bother me because of how I've learned to wear them.  I've acquired the art of stacking – of deciding what matters most – of pausing for that deep breath to remember how small I really, truly am.  My little life isn't the crux of anything.  Usually, I'm aware of the provision to help me do whatever I am called to do. 
Thank you, God. 
There's freedom in being appropriately small.
At other times (like this uber-nutty week) I feel like I decided to stand under an avalanche and shout loudly … down it all comes, and quickly.  I'm knee deep in snow and can't find my way out of my own self-created mound of overwhelm.  That's the truth.  At times like this, some people, feeling helpful, or perhaps a little superior, say things like, "You're so busy!"  Ah, yep.  Shovel?  Anyone?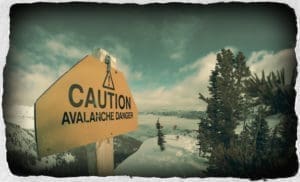 Intentionally Full
As I said in the beginning, I'm not "so busy" most days.  What I am is intentionally full.  I work hard to enter His rest and to work from that place of rest.  Still, we all face weeks like this upcoming crazyfest.  How on earth did this traffic jam of events come upon me so suddenly?  The convergence of obligations and the preparation for each one took me by surprise and honestly I felt swamped.
Last night, as I crawled through the tasks at hand, I was clearing out my email inbox (a new habit I have to keep it at zero daily by taking 10 min a day to purge and re-file emails into usable files) … anyway, I found this email from a bajillion months ago.  It had a simple quote from C.S. Lewis:
It's not the load that breaks you down, it's the way you carry it.
Divine Appointments
All this day I had purposely refused to get anxious over the massive length of my current get-er-done list. I've pushed out the urge to get resentful or irritated when people wanted to chat and I needed to get a job completed. I reminded myself that interruptions are divine appointments. 
God redeems the time because this life is His – He bought me with a price.  My time is not my own.  I stopped during two such "interruptions" and said in my heart, to Jesus, "I'm trusting you to give me time to do what I need to.  I'm giving my time to this person right now."  I felt His "yes." 
He did the same … for the woman on the road.  A dear friend of his was dying and Jesus pauses to see who touched Him in a crowd.  He should be running!  Jesus didn't run during his ministry years.  Not once.  He didn't even scurry or speed walk.  Purposely walking from place to place, He pauses.  He stopped for the interruption because she mattered and what was important to her was felt by Him.  I want to be like Jesus in this.  Never so far into my agenda that I can't stop for others when they want my time.  I want to remember that God holds it all and He holds me.

How Are You Carrying Your Load ?
As a blessing tonight, He brought the comforting quote.  It was a quick look in a mirror.  How am I carrying the load as compared to how I used to, Lord?  As I glanced, He showed me that I bore this load in a way that I wouldn't have known how in years past.
It's NOT the load that breaks us.  It's the way we carry it.
Spiritual ergonomics.
God isn't blessing my great skills.  It's not that I'm innately great at carrying loads without unloading on everyone around me. Definitely not that.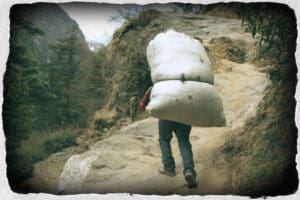 He has done good work in my life and heart to make me just a little more like Him. He continues to teach me the great truth of two invitations:  Come to me … all who are weary and heavy laden .. and I will give you rest for your souls.  The other is that I might take His yoke – share my burdens with Him.  Every burden shared is broken in half immediately.  Share it with Him and we no longer feel the weight at all.  
How about your load?  Is it weighing you down?  Bring it to Jesus.  He's standing with an open invitation.  He'll trade you the heavy yoke for an easy one.  You can exchange the feeling of being crushed for that of deep rest.

---
Want more goodness from PattyHScott.com?  Subscribe to the Monthly Newsletter!  You will receive content I don't share here on the blog, freebies and regular encouragement from me.  I pinky promise not to spam your inbox with meaningless clutter! 
If you want to learn more about my availability to come speak to your group, you can hear a clip of me speaking or feel free to visit my page at Christian Women Speakers.  
Save
Save