As I'm tucking my son in at bedtime, I ask him the same question I ask most nights: "Are you cozy?"  My mother's heart for my boys feels the sweet urge to provide them comfort. 
When sickness runs through our home, I brew tea, make homemade chicken broth and get them everything they need right near their spot on the couch until they are nursed back to wellness.  When the temperature drops in the winter months, I bundle them a bit tighter before they go outside. 
We wake in the morning and put a fire in the fireplace while I make cups of hot cocoa or bowls of oatmeal to help warm them inside and out.  One aspect of my love for these two comes through my attempts to make their world more cozy – providing safe havens and soft places to land.
God describes Himself as "The God of all Comfort" in 2 Cor 1:3-4
Blessed be the God and Father of our Lord Jesus Christ, the Father of mercies and God of all comfort, who comforts us in all our affliction so that we will be able to comfort those who are in any affliction with the comfort with which we ourselves are comforted by God.
Just as I long to provide security to my sons, God gives comfort to His children when hardship assails or the inclement storms of life pour down.  God is a refuge, a shield, a cleft, a stronghold.  He reminds us to take shelter in the shadow of His wings until hardship passes by. 
Jesus encourages His disciples not to be troubled or anxious.  At one point, He grieved over how He longed to gather the children of Israel to Himself as a hen gathers her chicks under her wings. 
God desires to provide us shelter, safety and consolation.
A CULTURE OF COMFORT
Living in America, in a suburban, middle-class neighborhood, most of our friends and neighbors want for very little.  We occasionally have to cut back on trips to Starbucks or skip a get-away over the summer so we balance the family budget, but we are able to eat, be clothed and have luxuries without much thought. 
We live in a culture of comfort. 
Our couches invite us to curl up and relax; outside our homes we have matching patio furniture with ample cushions.  We take our comfort too.  We find consolation in food, shopping, coffee, hobbies and friendship – and chocolate, let's not forget the chocolate. 
These lavish gifts from God sometimes seem like entitlements.  We easily and unwittingly start seeking comfort above seeking Jesus.  When it comes right down to it, we'd often rather be cozy than intimate and faithful. 
YOU WILL HAVE TROUBLES
Then storms come.  He said they would.  "In this world you will have troubles."  There's just no way around that.  The longer I live, and the more I talk deeply with others, the more I hear of the painful and ugly experiences people endure. 
Comfort can seem like the last thing dished out to us at the end of a buffet of disappointment, rejection, failure, heartache, loss and suffering.  Sometimes life feels like a relentless hailstorm, pelting us while we stand exposed and vulnerable.  Our inclination is to grab at comfort anyway we know how. 
We fashion umbrellas of our own making in desperate attempts to fend off the hurt.  We make feeble attempts to console and protect ourselves.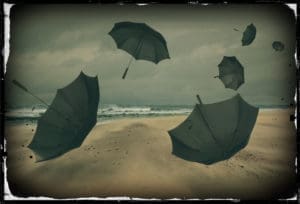 Our flesh cries out for comfort and more comfort. 
Our spirit knows the only real source of security is found in Jesus.
FINDING THE COMFORT WE SEEK
After some recent doozies in our life as a family, I have been reflecting on comfort.  What is it God really wants for us in trials?  How does our propensity to seek comfort fall in line with or clash against God's will for us as we face hardship? 
It comes down to this.  When we seek our ease and consolation from anything or anyone other than Jesus, we will not be truly filled.  When we seek Jesus regardless of the discomfort, we will receive joy.  He provides comfort in the deep places of our hearts and much more. 
In our striving to avoid the pains of life – to live in self-satisfied comfort – we often push Jesus out of the way.  We press on to what makes us feel good instead of trusting God to be our provider in the midst of difficulties. 
GOD IS OUR REFUGE
The more I think about the sufferings of life, the more I see the redemptive nature of trials.  I'm not laying out a welcome mat for hard times.  I'm like all of you.  I want to be cozy and keep the ones I love safe – very safe. 
As much as I want to duck when arrows fly, the fact of the matter is we will face hardship.  We will be pressed down, persecuted and attacked.  We will face unthinkable losses and devastation. 
The God of all comfort won't spare us trials, but He provides Himself as our haven when storms hit.  He wants us to turn towards Him in our pain and bring all the mixed emotions – anger, fear, doubt, worry, sadness – to Him in the process. 
CHECK YOUR HEART
I am watching my heart more carefully to see when I am seeking comfort from anything other than Jesus.  My aim is to be a Jesus seeker, not a comfort seeker. I am asking myself this question.  Will I will sit on the sidelines of life, huddled away in my well-appointed home, or if I will step out of the comfort zone to follow Jesus? 
He didn't seek comfort – He sought to seek and save the lost.  Am I willing to go there with Him?  
---
Want more goodness from PattyHScott.com? Subscribe to the Monthly Newsletter!  I pinky promise not to spam your inbox with meaningless clutter! 
If you want to learn more about my availability to come speak to your group, you can hear a clip of me speaking or feel free to visit my page at Christian Women Speakers.  
(this post was first published June 2016 on hearts homeward)