You know how it goes.  You love your husband.  Still, you disagree.  You squabble over how to discipline the children, what defines "clean" in the house and how much money can be spent each month.  To top it off, those qualities you found endearing when you were dating now occasionally drive you a tad nuts.  
Even when your sails are set in the same direction, disagreements can flare up over seemingly insignificant issues.  At those times, saying "I'm sorry" is the key to restoration.  That phrase doesn't come easy when your heart hurts and you feel slighted. 
LOVE DOESN'T MEAN YOU WON'T DISAGREE
Like you, I love my husband up to the moon.  He is funnier than most people know and makes me laugh from the belly most days.  Jon serves quietly without needing attention or applause.  He has compassion for the hurting and a tender way of approaching difficult situations.   
Through all our years of dating and marriage, one thing is certain.  Mixed in with some amazing memories and more sweet times than we can count, we have had our fair share of disagreements, hurts and disappointments.  
WHEN THE STUFF HITS THE FAN
I remember one Sunday after a full day at church and lunch out with friends, followed by a ministry meeting in the late afternoon, our family was unwinding in front of the TV.  Something came on I didn't want our littlest to see.  We were fumbling to get the controls to forward past the unsavory scene.  Tension mounted between our oldest son, my husband and me.  The volume went up (not on the TV, in the room!).   Some comments were made that were hurtful and I retreated to our bedroom to cool off.
In the heat of the moment I wanted to blast my husband with some really cunning comebacks.  I restrained myself.  I'm not a saint, so don't rush out to nominate me to the Pope.  Instead of lashing out, an unwelcome and surprising thought flashed across my brain:  "What does it mean to follow Jesus in the day-to-day life of our family?"
I had bypassed an opportunity to slice down the ones I love with my quick wit turned fierce.  I did unfortunately step on some toes before I became aware  of my need to take a "time out" to regroup with Jesus. 
A PEEK INTO MY PRAYER CLOSET
This is sort-of what my prayer time sounded like as I sat in my bedroom allowing God to nudge my stubborn heart towards the right attitude and actions:
Me: "I'm so mad right now.  I want to give him a piece of my mind."

God: "Mmmm hmmm.  That's not in line with what I ask of you."

Me: "What you ask is impossible for me.  I'm so mad I can't say "sorry."  I just can't turn this around and be nice when I want to teach him a lesson.  I know what you want.  I just can't."

God: "Unity of the Spirit in the bond of peace.  Hasn't that been your prayer lately?"

Me: "Yes.  Yes it has."

God: "… and you want to follow me."

Me: "Yes.  I do.  I want to follow you with all my heart."

God: "Then you'll have to do the hard things.  You have to not let the sun go down on your anger and not give the devil an opportunity here.  I died for your sins.  You can't hold this sin against him."

Me: "I know, but I'm still so flaming mad.  I just can't forgive him.  You are going to have to move a mountain here to soften my hard heart."
I saw clearly I needed to forgive first.  Triple ugh. 
SORRY IS THE HARDEST WORD TO SAY
I'm not sure why it feels so hard to do this one simple thing.  When I feel wronged, I'd rather count snowflakes in Antartica than say those two simple words.  Ultimately I hung onto Jesus and I tucked my tail.  I went to my husband and said, "I'm sorry I contributed to the tension we went through.  Raising my voice didn't help.  I know I added to the problem."  He responded with his own apology.  
We turned back toward one another.
I've been making this promise lately:  I will always turn back towards you.  I will turn towards the ones I love because Jesus turns towards me when I least deserve it.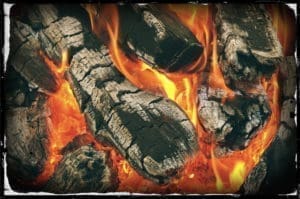 GIVING GOD ROOM TO MOVE
Sometimes I have to turn to God before I am able to humble myself to someone else. Time spent with God straightens me out.  Then I can turn towards my husband (or whomever) instead of holding onto the hot coal of anger and keeping my heart hardened against both God and him.
Whenever we bend the knee and become willing to be the first to say "sorry," we give God room to move between us and another person.  Choosing Jesus' way isn't always easy.  It feels unfair when your heart is full of what feels like justified anger. 
Walking in what is right requires us resisting the pull of our hurt emotions.  In the process we teach our children what it looks like to hang on instead of caving in.  We show them that real marriages go through real conflicts and then stand strong and fight to get back to one another because that's what love does. 
[bctt tweet="Love fights for the relationship, not against it. " username="HeartsHomeward"]
Love fights for the beloved even if it means tucking our tails and being the first to say, "I'm sorry."
---
Want more goodness from PattyHScott.com? Subscribe to the Monthly Newsletter!  I pinky promise not to spam your inbox with meaningless clutter! 
If you want to learn more about my availability to come speak to your group, you can hear a clip of me speaking or feel free to visit my page at Christian Women Speakers.  
---
This post was first published in July, 2016.  I recently revised it to share the importance of this principle of humble forgiveness with you.  
Save
Save