It's one of those seasons.
You know the ones … your heart feels pulverized by circumstances as your life takes some turns you hadn't foreseen.  This was not in your five year plan.  Not in the least.  You find yourself knee deep in yogurt with no spoon. 
God calls these excruciating times "light and momentary."  He's not mocking us when he says that.  I think He is attempting to give us His perspective.  It is in these most dark and difficult times that God is leaning near, whispering, "I know this seems insurmountable.  I know there aren't enough promises of outcomes to give you a sense of control.  Believe Me.  This is not going to be the final word.  What you see right now is not the end of the story.  I'm not finished."  
Light and Momentary
Light.  Momentary.  Sometimes it feels so heavy I can't bear to lift my head.  That's when I know I'm holding it all wrong.  It's only light when I let Him lift it.  My burden is too heavy for me.  It's a feather to Him. 
Momentary.  A blip on the overall screen of eternity.  He's calling me to keep this current distress in eternal perspective.  He's going to use every single drop of this heartache for my good and His glory. 
Christian Pollyanna?  Say what you will.  I know Him well enough to know He will use the worst to bring out the best.  It's just what He does.  Sing it, Nicole C. Mullin – I know my Redeemer lives. 
He won't waste a drop of my pain or suffering.  He'll make good on it. 
Rejoicing in Suffering
In another part of His Word, God leads us into more perspective and extends us an invitation: Rejoice in your suffering – consider it ALL joy.  Consider it all joy when you endure trials of various kinds.  For you know … for you know … that this will bring about character in you and the ability to endure and hope that will not disappoint you. 
God's whisper into our hurting hearts says, "Hang in there.  You're going to be stronger and more like Me as a result of this.  The outcome I'm after isn't outward, it's inward – in you.  It will be so good, what I'm going to do through this awful circumstance. 
I'm going to make you more like Me and I will give you the ability to hope in something that doesn't fade.  Take your hope off the outcomes and put your hope in Me.  I won't let you down." 
So, the other day, when my heart was literally breaking in two, I was folding laundry and I heard a prayer of praise come out of my own mouth.  I was taken aback.  It bubbled up from my heart and exited my lips without me willing it.  Immediately afterward, I thought, "I'm rejoicing in my suffering."  It's a gift to do so. 
Our Real Life
We lift our eyes above this world – to the place where our real life is hidden with Jesus.  Our real life.  Do you think your real life is here, in these four walls, with this day-to-day and your to-do list?  That's not your real life.  Our real life is hidden with Jesus.  Life in Him is sweet and beautiful.  Our real life contains the peace that passes all understanding.  We are safe in His arms. 
We will grieve.  In this life you will have troubles, if it were not so, He would have told us.  That's what Jesus said and He meant it.  We will have great trials, difficulties and struggles.  But, take heart.  Take heart.  Take heart.  He has overcome the world.  He has overcome and He is overcoming it and He is leading us to do the same. 
Whenever we lift our eyes above what threatens to lay us out and do us in, we overcome.  Whenever we feel all the disgust and heartache of living in a world riddled with sin and all its corruption, we overcome. 
Joy and Grief
We grieve with Him and we rise above with Him.  Joy and grief are sweet companions.  They inform one another.  My joy teaches my grief not to be hopeless and my grief instructs my joy to be compassionate. 
My heart breaks over the brokenness that causes suffering for others and myself.  Yet I will be pressed down and not crushed.  I am not abandoned and I have a hope that will not disappoint.  Dark days are part of this life.  Unthinkable heartache will be a part of each of our stories.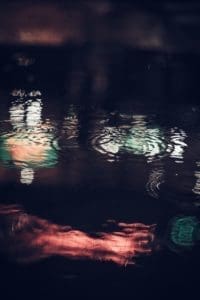 I choose to …
Stop trusting in circumstances.
Look up at my real life, hidden in Jesus.
Rejoice in His nearness and provision.
Give myself the grace to grieve.
Consider the goodness He is working out in me.
Hope in Him. 
---
Want more goodness from PattyHScott.com?  Subscribe to the Monthly Newsletter!  You will get extra content I don't share here on the blog.  I pinky promise not to spam your inbox with meaningless clutter! 
If you want to learn more about my availability to come speak to your group, you can hear a clip of me speaking or feel free to visit my page at Christian Women Speakers.  
Save