On Sunday morning, I sat on the balcony of our cabin, my chair turned outward overlooking the rolling hills.  My husband and I were on a much needed getaway at a ranch off the beaten path.  A nervous jackrabbit paused on the dirt road; birds soared overhead, unaware of their all too familiar backdrop of clouds and blue sky. 
Much like the birds, I often take my surroundings for granted.  As a light breeze swept across my face, I relished the peace of the moment.  I have this thing for breezes.  I can be all wound up inside, then I'll feel that soft touch of wind on my skin and it's as though something instantly smooths out the inner wrinkles in my soul. 
It's been a season where I've been regularly overwhelmed and stretched to my limits, so this quiet morning truly felt like an oasis in the desert and I savored every part of it.
GOD ECHOES
Lately I've been using six devotional books along with my bible in the morning.  I'm not out to win any medals.  I'm also not on a Christian workaholic binge.  Years have passed since I used my morning time with God as a way to build my spiritual resume by checking off books read or verses memorized. 
I have made friendships with these devotionals.  They are the sustenance by which I feed my soul.  Each one has a unique way of pointing me towards God and the way I need to walk with Him daily.  None of them are related to one another, yet, God in His ever present care for me, often brings a synchronized message into a morning as I read and pray. 
God echoes Himself so we hear Him clearly.
In this precious solitude God kept bringing one theme: "My presence is constant.  Seek to be aware of my presence."
GOD IS NEAR
Sometimes, like those birds, we get so used to our surroundings, we forget to step back and recognize God is near.  His kingdom is at hand.  As I read, the thought came: "Surely the Lord is in this place …"  At the time I forgot where that word was in Scripture,  who said it and in what circumstance.  All I knew was that my heart resonated in a new and more meaningful way.
You are going to love what happened next. I sat reading the last book in my stack, Ann Spangler's "Praying the Names of God."  We're on the name, "Elohim" which means God above all other gods, Creator and Supreme God.  Ann guides us to scriptures for praising God, thanking God, confessing to God and asking from God as we pray over the given name of God we are studying. 
I'm not doing the book according to the days of the week, as it is written, so the fact that this particular passage landed on the day when God was obviously calling me to remember His constant Emmanuel presence was about as likely as me finding a gnat on an elephant.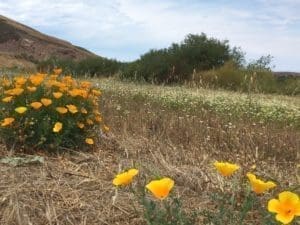 HEARING HIS VOICE
The scripture Ann pointed to was Gen 28:16 "Surely the Lord is in this place and I was not aware of it."
It was the very verse that pressed into my mind, seeming like my own fleeting thought after I read the first few devotional books.  God spoke and I heard Him.  I read of His presence.  He reverberated His Word into my heart and mind.  I let the verse melt and sink into deep parched places.
GOD WITH YOU
Surely the Lord is in this place.  He is here on this precious getaway weekend, giving me the peace and refreshment I have needed.
He is in every place I go, every place I stay, every place I am called, every place I wish I weren't, and every place I love to be.
The Lord is in the inward places in my heart where I am prone to fear, anger or worry.
I acknowlege the Lord is in the place of my concerns, with the people whose troubles distress me.  He is present in the trials that threaten to undo me.
Surely the Lord is in every place.  He is near.  He is with me.
The rest of the week I have been silently rehearsing God's assurance as I enter new places.  When I am faced with experiences that challenge me, I remember His nearness.  He has been soothing my heart with the remembrance of His intimate sweetness.  He shared His message to me at a time when I needed it most.
Surely the Lord is in this place – the place where you are right now with whatever delights you, whatever confounds you, whatever scares the daylights out of you, whatever burdens you.  He is near.  He is with you.
Let it become your private mantra of comfort and confidence:
Surely the Lord is in this place.
---
Want more goodness from PattyHScott.com?  Subscribe to the Monthly Newsletter!  You will get extra content I don't share here on the blog.  I pinky promise not to spam your inbox with meaningless clutter! 
If you want to learn more about my availability to come speak to your group, you can hear a clip of me speaking or feel free to visit my page at Christian Women Speakers.  
---
Save
Save
Save