My mentor and I sat in her study, shoes off.  I had spontaneously taken mine off before kneeling in front of her 12″ wooden cross and she followed suit.  We noticed the holiness of the ground around us at that moment.  The mundane turns sacred as we turn towards Him.  I began my prayer – pouring out my heart: the good, the bad, the ugly, the angry, and most of all the deep longing.  All of it poured out to God openly and without reservation. 
Turning towards Him
How many years did I turn away or hold back, thinking I could keep Him at arm's length from the most tender places?  Not tonight.  Tonight I chose to face Him and the cross and my sin.  No comfort in sight, I began.  He sweat blood before He faced the cross.  I'm feeling it – the "if there is any other way" of this encounter.  His cross was for separation so that we could be reunited.  My cross is for dividing and exposing that I might bring more of me to more of Him and be made whole as a result.  Some sin dwells in our heart condition rather than any action we did or did not do.  Sometimes the sin is as simple and profound as missing the mark by pushing Him out and trying to take His place, or attempting to replace Him with something seemingly more promising. 
Wholeness from brokenness
I'm reading a marriage book these days – about the seven keys to a successful marriage, written by a man who can predict divorce based on trends in the ways spouses treat one another.  In marriages where patterns of criticism, blame, and condemnation prevail, ultimately partners turn away from one another until they begin to stonewall.  The great divide can lead to quietly living estranged lives under the same roof, or it can lead to separation and divorce. 
I ponder how we turn away from God – how I have turned away at times and, though I reach for Him with much of my heart, I have kept corners guarded with barbed wire fences. Turning away leads to estrangement.  Turning towards builds intimacy. Only when I bring myself, as I am – to Him, as He is – do I experience healing and freedom. 
Returning to Him
My story includes abuse and rejection. Years later I self-imposed demanding expectations and the weight of perfectionism. In my mind, I mistakenly expected Him to be exacting, dissatisfied and demanding. I have asked Him where He was when horrendous things were happening to me.  Why didn't He move His all-powerful hand on my behalf? Why didn't He spare me the worst of what I have lived through?  Trite platitudes don't suffice as answers to evil. Only love can cover a multitude of sins. When you've experienced the reality of sin at its worst, you will only settle for love at its best. I'm not playing church. I need a Savior. So many years into walking with Him and my need hasn't changed. If anything, I need Him now more than ever. If I'm going deeper, His grip must be reliable. 
Love Covers and Fills
At the cross, we cannot hide. Some disregard His sacrifice. Some hurl insults, mocking Him. We may find ourselves weeping as we witness love – giving all for all. The cross leaves me unsettled in the best of ways. I meet Him there so He might enter into what remains broken and make me new. Behold He is always doing a new thing. At the cross, He whispers, "It is finished." Jesus frees me from the weight of sin and shame. He offers resurrection to the dead places within me.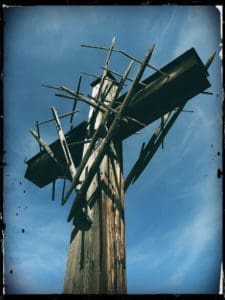 The real Jesus – gentle and powerful.

 
When all is said and done, unfinished business sits comfortably in my heart next to a space newly opened to Him. I know I have allowed Him to see me as I am – I have chosen turning towards. I have risked rejection, but have received relief. When we cover up our pain, we never know how loved we truly are. We only experience shallow approval – of our works. Our souls are restless until we come, vulnerable and incomplete, bringing all we are to all of Him. Only then do we experience the fullness of love.  
---
This vulnerable post was originally written on April 26th, 2016 to share with you as I walked through deep exercises of going to the cross with my mentor.  If you want to know more about what we did together, please comment here. 
As we pursue God, we occasionally tread water for a while, but life in Jesus is not a static experience. Like Peter, we want to set up camp on the mount of transfiguration.  Jesus says, "no." He knows we need to keep moving forward – towards the cross and through to the joy and freedom on the other side.  God is so patient with us even as fear of the pain causes resistance. 
I pray you take your next risk with Jesus – whatever that is for you.