I had to share my first successful attempt at barbecuing with you.  This yummy jerk chicken recipe had us all licking our chops.  It's pretty easy considering how impressive the results are.  Serve it up with some coleslaw, ceviche (if you have it), jerk baked beans (or just plain-ol American baked beans) and if you are feeling super-inspired, a coconut/mango/pineapple smoothie or other tropical drink.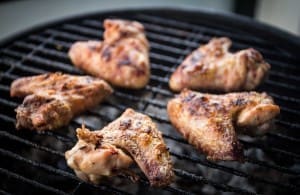 Jerk Chicken
Ingredients:
♥ Chicken drumsticks (as many as your crowd will eat)
♥ Make a marinade by combining:
1 c Soy Sauce or Coconut Aminos

1/4 c. Lime Juice

1/3 c. sugar or Palm Sugar
♥ Jerk Seasoning (you can find this in your local grocery spice section or make your own seasoning mix from a recipe online)
Directions:
Cover a cookie sheet in tin foil. 

Score each drumstick.  (Cut 2-3 slash marks in each drumstick to help the marinade soak into the meat)

Mix the three ingredients to make the marinade (lime juice, soy sauce and sugar)

Pour the marinade over the chicken. 

Sprinkle the Jerk Seasoning over all the drumsticks – turn them over so the other side gets seasoned as well. 

Marinate in the fridge for 2hrs (give or take)

Preheat the oven to 350

Go outside and fire up your coals if you are using an old-fashioned Weber and you need to let the coals burn to a good heat for about 30 min.  If you have a gas grill, skip this preheating step. 

After marinating, put the baking sheet(s) of drumsticks into the oven for 30 min.  This will cook the chicken internally.

Take the chicken out of the oven and take it to the barbecue.  Place all the pieces on the grill.  Yep, right on the grill.  I actually greased the grill a tad with coconut oil before putting my chicken on – and before lighting my coals.  I'm not sure what it did in terms of helping, but I thought I should mention it here. 

Cook the chicken on the grill for the searing of the external meat.  This is just to give your chicken that good burnt or crispy exterior.  I think I probably lay all the pieces on and then in about a minute started the process of flipping them over.  It might have been about 5 minutes cook time total. 
That's it.  Then you just eat up and keep a napkin handy. 
Ya Mon.  Good stuff. 
---
photos courtesy of Morguefile … though my chicken looked just like this …
I was just too busy cooking and hosting to take pics!