Perfectionism.
At first glance, aiming for perfect standards doesn't seem so bad. Striving for excellence can move us ahead in the world, give us a sense of accomplishment, and even end up impressing others. But, often our pursuit of excellence becomes consuming. What looks great on the surface actually can hide a reality of insecurity, dissatisfaction, and condemnation. 
Just so we're clear, perfectionism doesn't mean we are super-organized or that we always get things perfect (don't we wish!). 
Perfectionism is an inner striving to control that means we want things a certain way. That striving leads us to dissatisfaction. When we apply unrealistic standards to ourselves, we end up feeling we can never hit the mark. 
Striving for excellence can be a GREAT thing when it's done from the right motives. When it is done because we feel insecure or fearful, it's the worst of traps, and one we want to help our children avoid. 
A Human Doing, not a Human Being
Being the first born child in my family, meant being a guinea pig for my parents. You know: I was the child who got to be the recipient of all the trial and error parenting approaches. First borns are often under the pressure to be the best. My parents both pushed themselves and me to strive for excellence in every area. Somehow, I ended up with the feeling that my worth was determined by my performance. Instead of feeling my value as a human being, I became dead set on becoming a human doing. I had thoughts I couldn't even articulate until much later in life, such as, "I'm not enough," and "I have to be the best at everything I do." That kind of pressure drove me through my childhood and well into my adulthood. 
Underneath these feelings was a pervasive sense that merely being me wasn't valuable enough. I feared the rejection of people around me and somehow thought being perfect would protect me from a losses in relationships.
This line of reasoning is so faulty. As I have healed and matured, I've learned that we draw near to others most through vulnerability and imperfections. When someone appears "perfect," it's often intimidating and serves to build a wall rather than a bridge in relationships. 
The Lies of Perfectionism
There are many lies woven into the myth of perfection. One of the greatest is the idea that we actually can be perfect. Of course, if we say that out loud, we will immediately dismiss the idea. We know we can't be perfect! Somehow reality gets shoved aside in the perfectionist's day-to-day life.
Living a perfectionistic lifestyle means never being satisfied with the status-quo, always striving to be the best, to outdo ourselves, and to have all our outer and inner world in order. Mistakes and messes have no place in the life of the perfectionist.
The perfectionistic lifestyle creates a heavy burden. We live with inner, invisible shackles that keep us driven to busyness and overachievement. The demands of achievement come at great cost to ourselves. We lose sleep, relaxation, and even intimacy as we strive to be all we think we need to be. 
The Four Basic Needs
We're in the middle of a series on meeting our children's four basic emotional needs. Meeting our child's deepest needs establishes something solid within them that will carry into adulthood. To read about the four needs you can go here. To read about meeting the need for love and how to help your child avoid using attention-seeking behavior, read this post.
A Sense of Worth
We've talked about the four basic needs our children have. Today we're talking about a sense of worth. Worth can often be determined by how rare something is or the price we would pay to obtain it. For example, the Ford Cobra had fewer than 1000 cars made before 1968. At that time the world population was a little over 3.5 billion. That made the Shelby Cobra a rare item. The worth of the Cobra was astronomical because of how rare it was. When a 5oth anniversary edition of this vehicle was produced, the inventory sold out in fewer than 48 hours. That's worth and value!
Think of your one-of-a-kind child, handcrafted by God. Never again will there be another like them. Read Psalm 139 with your child in mind. Each person is fearfully and wonderfully made, knit together purposefully by God Himself, watched and led by God each step, known intimately by a Creator who loves and cares.
Can we convey our child's God-given worth as we parent? 
When our child feels they are valued for who they uniquely are (not what they do or don't do) they develop inner security. The need to prove themselves disappears. A child who knows their worth can share their talents, personality, and strengths. They also can acknowledge their failings, quirks, and sins. They feel treasured, loved, forgiven, and wanted unconditionally. 
When children do not experience love for who they are, perfectionism takes hold. They begin to work for grades, sports trophies, outshining others, or even behaving well just to earn favor. While we all would love to see our children aim for all these great achievements, we want them to do that because of a healthy motive, not because they are compensating for feelings of insecurity and needing to prove their worth through performance. 
Five Ways to Keep Your Child from The Trap of Perfectionism 
So, let's get down to what we can do in a very practical sense to help our child develop their sense of worth so they don't fall into the trap of perfectionism.
Grace is the freely extended gifts and blessings of God, without us earning any part of what is given. Our children need to experience grace from us as parents. They need to know there are consequences for their choices and actions. Beyond those consequences, they need to feel that they don't lose our love or all the blessings of our relationship with them no matter what.
God tells us while we were His enemies Jesus died for us. That's grace. His death and the gift of eternal life weren't contingent on us or our behavior at all.  Knowing that gives us a deep sense of gratitude and security. We didn't earn it and we can't botch it. Our children need to feel this same sense of security. They are loved regardless of choices or behavior.
While grace is giving goodness when it isn't earned. Mercy has to do with showing kindness when it is in our power to make someone suffer.
As parents, we are constantly disciplining (discipling or teaching) our children. The attitude we take as we lead them forms their sense of worth. If we can discipline with kindness, staying on their side, not pitting ourselves against them, our child will continue to feel valued even when they are being corrected.
Emphasize their value apart from their achievements
It's natural to celebrate when our children succeed at something. We need to take extra effort to celebrate them for who they are, not only what they do. Stopping throughout the day to extend affection, or just telling your child, I love you for who you are, can make a huge impact on how your child feels valued. 
Weed out perfectionism in your own heart and life.
You will hear me say over and over, more is caught than taught. We are the role models in our children's lives. How we do things shows them how things are done. So, if we struggle with perfectionism, our children will see that modeling and pick up on it. 
We may push ourselves and our child to keep things excessively tidy, or to pursue the top spot in sports or academics, or to always behave in ways that are beyond reproach. Just know our perfectionistic standards can be contagious and do far more damage than any communicable disease. Letting ourselves off the hook will naturally let our children have more freedom to be human as well.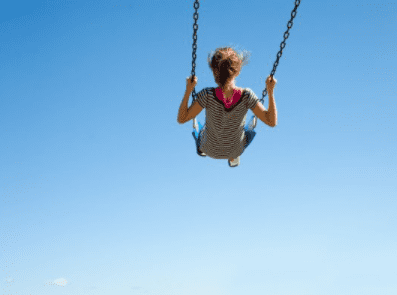 Share verses that show off the unconditional love of God. 
God's word is powerful and active. When we take in verses that remind us of His unchanging love, our spirits are impacted. We can share verses like these to help our children embrace the way God delights in them and loves them beyond their behavior. Our children can learn that their behavior is a thank you to a gracious and merciful God, not a prerequisite to His love (or ours). 
Romans 8:1
Therefore, there is now no condemnation for those who are in Christ Jesus.
Zeph 3:17
The Lord your God is with you, the Mighty Warrior who saves. He will take great delight in you; in his love he will no longer rebuke you, but will rejoice over you with singing.
Romans 5:10
For if, while we were God's enemies, we were reconciled to Him through the death of his Son, how much more, having been reconciled, shall we be saved through his life!
Psalm 103: 2-4
Praise the Lord, my soul, and forget not all his benefits—who forgives all your sins and heals all your diseases, who redeems your life from the pit and crowns you with love and compassion
And, we don't simply share these verses, or have our children memorize them. We need to explain the meanings behind the words and help our children comprehend the goodness of a God who loves them because He chose to make them just as they are. 
No Perfect Parents
One last thought: We will fail as we try to show our children their worth. Our tempers might flare. We may become impatient.
At times we will emphasize performance. We might forget to show our children how valued they are for who they are.
Helping our children overcome perfection isn't going to come through our perfect parenting. (Ironic, huh?) We aim for what's best and meet our children's four basic needs as often and completely as we can.
When we botch things up, God steps in and fills in the blanks.
So, do your best, and know you'll be human along the way.
When you fail as a parent, apologize, own your mistake, and start fresh. 
---
I love pouring into YOUR mama heart. If you would like to receive my weekly email, with some encouragement from my heart, a weekly #momhack, and a family-tested recipe, you can sign up below.
When you sign up, I will send you Ten Keys to Avoiding Power Struggles. It's the first book in my Mini-Books for Moms series, and it's my FREE gift to you. Mini-books for Moms are books you can read in less than an hour and apply the principles and methods that same day.