Sometimes a book catches you by surprise. 
That certainly was the case with The Match, by Sarah Adams. This sweet-clean romantic comedy delivered on every page.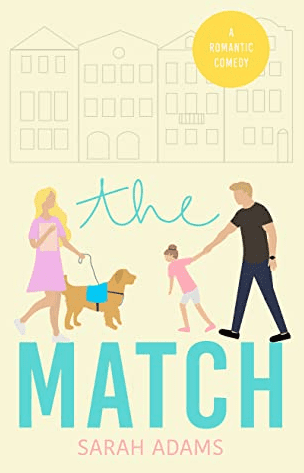 The plot:
Evie is a Southern belle who got epilepsy in high school. Her affluent and influential parents were never happy with anything less than perfection. When Evie met the owner of a guide dog company, she gained independence, and even the courage to move out from under the control of her parents. Now, cut off from her inheritance, she happily lives in a small apartment with her guide dog Charlie, working for the guide dog company and slated to take over ownership when the owner retires. 
Jake is an architect who built his company from the ground up. He's also a devoted single-dad whose wife left him last year for pilates, plastic surgery and a plethora of new men. (The three P's). His 10yo daughter, Sam, gets epilepsy and wants a guide dog. 
You guessed it. Jake and Evie meet when Sam attempts to get a guide dog.
Jake has been burnt. Gorgeous women make him put up the internal caution tape. But something is different about Evie. 
Evie is beautiful, but being berated by her parents, and then being rejected by men once they know she has epilepsy has made her feel she won't ever be able to find a man who loves her as is. 
My thoughts: 
I would say this book is one of my faves of 2020. I will say that. I am saying that.
The story is filled with clever, fresh metaphors, wonderful romantic tension, and delightful relationships surrounding the central burgeoning romance between Jake and Evie. 
It kept me up til 1:00am, so beware of getting hooked in. Moral of that story? Start reading good books right after breakfast, not after supper. 
I give it five stars for humor, fresh voice, and characters whose tender awareness of one another's flaws made me almost cry at two points in the story (ok. I had tears). 
Get this book. You won't regret it.